"Plum Nelly" at Carnegie Hall with "The James Gang," promotional poster May 15, 1971.
- Plum Nelly ~ Biography -

This five man band began playing under the name "Creedmore State" until Nicky and Arnie Ungano of the famed defunct New York City rock club of the same name took them under their wings and signed the band to Capitol Records under the name "Plum Nelly." They either played with or opened for many famous acts such Bo Diddley, B.B. King, Buddy Guy, Jimi Hendrix, The Kinks, Savoy Brown, John Mayall, Fleetwood Mac, Rod Stewart and The Faces, Joe Cocker, Dr. John, Muddy Waters, Terry Reid and notibly at Carnegie Hall with The James Gang.
The band recorded The album "Deceptive Lines" at Capitol East, November through December 1970 along with producer Kenneth Cooper. It was released in 1971. Band personnel on the record included John E. (Earl) Walker on lead guitar, Ric Prince lead vocalist, Peter Harris on Bass, Steve Ress rhythm guitar and vocals, and Christopher Lloyd on drums.

Guests on the album included Jeremy Steig on flute and The Sweet Inspirations were featured on the background vocals of "Lonely Man's Cry." The Sweet Inspirations were led by Cissy Houston who is Whitney Houston's Mom. They also were Elvis Presley's and Aretha Franklin's backup singers during this period. Dave Bash Johnson played conga's on the song "Carry On." Album liner notes were written by Patrick Salvo.

The group toured the US during the early '70's and relocated in Los Angeles in 1974. It was at this time that John Murphy replaced Bob Feit, who went on to become Tina Turner's bass player, and superseded original "Plum Nelly" member Peter Harris on bass guitar.
Plum Nelly disbanded in 1976. It was during this time that Walker formed the first incarnation of "The John Earl Walker Band," circa late 70's to early 80's.

| | | | | |
| --- | --- | --- | --- | --- |
| Christopher Lloyd | John E. Walker | Steve Ress | Peter Harris | Ric Prince |
| | | | | |
- Album Reviews -

Billboard
Pop
Deceptive Lines - Plum Nelly Capitol ST 692
There's nothing deceptive about this recording by Plum Nelly except the title. Everything else is quite clear. Dance to this record or simply sit quietly and listen to what they're saying and you'll hear some groovy instrumental sounds. Take note and watch this one move.

Cashbox/album
Pop Best Bets
Deceptive Lines - Plum Nelly Capitol ST 692
Plum Nelly is a New York rock quintet who have compiled a fascinating collection of material for this, their debut album. With the help of Jeremy Steig and the Sweet Inspirations who appear on several tracks, Plum Nelly add an interesting twist to ordinary rock music. Highlighting the package are "Carry On," "The Demon" and "Sail Away," but each of the six tracks are worthy of your attention.

Variety
PLUM NELLY: "DECEPTIVE LINES" (Captiol)
An excellent LP marks the debut of Plum Nelly, a five-piece group that play a smooth brand of hard rock. Aided by Jeremy Steig, who sits in on flute and also piccolo the group alternates heavy passages with light acoustic lines. Highlights are "Sail Away," "Deception," "Lonely Man's Cry," with the Sweet Inspirations adding backing harmony.

~ More Plums ~
John Murphy & Steve Ress
Bob Feit & John E. Walker
Bob Feit, Norman Ross, John E. Walker, Chris Lloyd, Rick Rhienish
Ric Prince & John E. Walker
Walker & Feit at Grant's in Macon, Ga.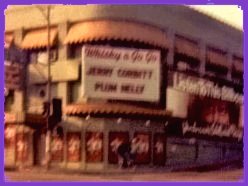 - Concert Reviews -
| | | |
| --- | --- | --- |
| | Village Voice 1970. | |
Writer / PR man Patrick Salvo, parties with Walker
and friends in the bathroom at a studio opening.
Some music cuts off the Deceptive Lines album, for you to listen to, or load.




sailaway.wav....Sail Away....features a solo in which Walker's guitar asks a question and then comes back to give the reply. This song received the most airplay of all others on the LP. Thanks Scott Muney and WNEW FM!

decption.wav....A piece of Deception ....A song that is about lying....both in relationships, as well as in the music buisness.

lonlyman.wav....Lonely Man's Cry.... Walker and Cissy Houston arranged the vocal parts and Chris Lloyd wrote the lyrics, for this soulful ballad.


John E. Walker and bass player John Murphy...."reflecting"....